By 1981, parents had got together and formed an official BMX committee, now known as BMX NZ.
By Dave Kidd: On the 7th of February 1981, Wainuiomata held the first New Zealand National Championship.
Over 320 riders from Auckland to Dunedin entered the event. Some of these riders are still competing today.
Brett Hickford from Highbury claimed the first open class title (now known as elite men.)
Later that year, a group of touring professionals from America visited and raced in Auckland at the Barry's Point Road track. These riders were well known to most kids, and became idols to many others. Since this first visit, American pros have come out to New Zealand several times to race and hold coaching clinics.
In 1982 there were over 70 tracks built, with even more clubs becoming affiliated.
Auckland hosted the second nationals. In 1983, BMXNZ decided it was time to hold the event in the South Island, with Nelson having the honours. It was then decided the nationals would go to the South Island every third year.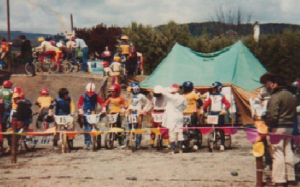 In 1984, BMX had reached new heights .There were over 5000 registered riders in New Zealand. The nationals that year were held in Castle Cliff, Wanganui. A record 1400 riders entered from 82 clubs! This is still the biggest ever meeting held in New Zealand and the most talked about to this day.
A group of riders travelled to Japan later that year, to attend the 3rd BMX World championships. Gaye McManus of Mangere became the first New Zealand BMXer to win a world championship title, competing in the girls 6/7 age group.
The following year, 1985 in Canada, the late Errol Nelson of Cambridge became the first male rider to win a world championship title in the 40+ cruiser class. This race can been watched at http://youtube/zHSrQmtWt6c
DaveKidd – NZ1
at Nationals 2009 Whangarei