Huge local support has been thrown behind a plan to revive Oamaru's old BMX track in Mill Rd.
Leighton Selfe, who instigated the project, is working with the Waitaki District Council and businesses to return the track to its former glory.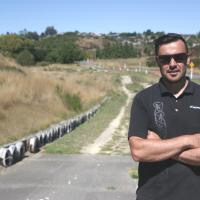 "This place used to be packed – there'd be a twilight [meeting] every week, with locals only, and race events every month – it was just amazing," Mr Selfe said.
Now it is overgrown and unused.
Major work would be required to make it more rideable, but Mr Selfe hopes to see it fully functional by next summer.
"It will be there for the public to use and the kids to come and enjoy," he said.
"It's going to be cool for kids. That's really what it's all about for me."
For now, he asked the public to be patient.
"Once it's levelled, people need to stay off it … just to let it all naturally compact and then once the jumps are formed we've got to let them sit without people on it," he said.
Mr Selfe's goal is modernise the track, adding more jumps.
"Then I'd like to think some local people might want to form a BMX club and get it happening again," he said.
At least seven local businesses and the council had offered their time or goods to help the project.
"[The support] has been quite unbelievable … businesses are really going out of their way to contribute," he said.
Otago Daily Times
26 February 2015
rebecca.ryan@odt.co.nz