A wintry blast was unseasonably different but the result proved the same as Trent Jones edged BMX high performance squad teammate Matt Cameron at the UCI Olympic ranking event in Te Awamutu today.
Jones, 20, pipped Cameron to claim Saturday's grand final at Cambridge, and the pair dominated qualifying in the second UCI Category 1 event today, both claiming three wins. However Jones again showed more speed in the tricky conditions to grab the win in the grand final from Cameron with Australian Bodi Turner third.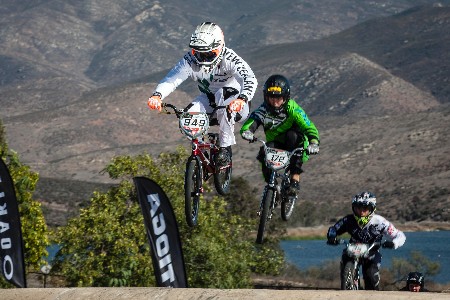 Taranaki's Victoria Hill also made it a double with victory in the elite women ahead of junior elite, Hannah Sarten, from the BMX High Performance squad, and Gisborne's Monique Smith.
Australian based Kiwi Brandon Te Hiko again impressed in winning the junior elite honours, unbeaten over two days of competition.
Yesterday's fine weather gave way to cold, wet conditions with the ramp and gate dried off between races, with the Challenge age group racing called off.
"This is a good boost that (my) training is on track," said Jones. "I've been back for six weeks but it's been a lot of strength work and a lot of power work and now just converting to track work to build speed.
"I feel comfortable on the bike although obviously it hurts a bit more on the lungs."
Jones will now target Australian events in the New Year as New Zealand riders fight for qualifying points for the Rio Olympics.
"The (New Zealand) team had a really good first half of this season but there were no Olympic points on offer. The second half we were all injured and now we are playing catch-up but that's nothing we can't fix.
"I am back in full training mode until the first World Cup in April in Manchester and from there I will be based between Europe and the States for seven months."
Jones and Cameron won all three qualifying motos from Turner and Gisborne's Nick Fox, who enjoyed a strong 2014 season racing in USA.
The final followed qualifying form with Jones claiming the honours from Cameron with Turner edging Fox for the final spot on the podium.
Results:
Elite men qualifying: Trent Jones (Christchurch City) and Matt Cameron (New Plymouth) 3 points, equal 1; Bodi Turner (Australia) and Nick Fox (Gisborne) 7, equal 3; Daniel Franks (North Avon Christchurch) 9, 5; Marc Willers (Cambridge) 10, 6; Ryan Lewis (Te Awamutu) 11, 7; Cody Stevens (Tauranga) 12, 8.
Grand final: Jones 1, Cameron 2, Turner 3, Fox 4, Franks 5, Willers 6, Lewis 7, Stevens dnf.
Elite women (3 races): Victoria Hill (New Plymouth) 3, 1; Monique Smith (Gisborne) 9, 2; Amelia Walsh (Canada) 14, 3.
Junior Elite Men: Brandon Te Hiko (Geelong) 3, 1; Cameron Petch (Te Awamutu) 7, 2; Todd Barry (Cambridge) 8, 3.
Junior Elite Women: Hannah Sarten (Te Awamutu) 9, 1; Tahlia Hansen (Rangiora) 10, 2.
Caption: Matt Cameron in action. Photo credit: Craig Dutton.