Baleigh Rees: My trip to Rotterdam for the BMX worlds started off a little bumpy after 26 hours of traveling I arrived in Rotterdam, I unpacked my bike and put it together.
Soon after me and dad got to our hotel, we realized the wall plugs were different so we went down town to get some adapters at the same time we hired dad a hire bike after this we went to Mc Donald's. We locked the bikes up to a lamp post walked into Mc Donald's ordered some food then went and sat by the window so we could keep an eye on the bikes and my bike was gone. Dads hire bike was still there, the person who stole my bike had picked the lock.
We talked to some people who were sitting outside nearby shops and they said it happened so fast that they thought it was just dad. We then rung the police and went down to the police station and spent a couple of hours there filling out a police report for the stolen bike. There was nothing we could do from this point so we went back to the hotel and started ringing around trying to sort out a bike for me to ride. The next couple of days were pretty boring because I didn't have a bike to ride so couldn't go to any tracks to train.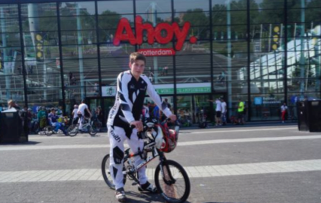 Soon after the word got out that my bike was stolen I had heaps of offers from people wanting to give me a bike to ride. I even had people from NZ willing to send their bikes over to Rotterdam for me but it wouldn't of been likely their bike would get to me in time to practice and race on. Also if I borrowed a bike there was going to be the problem with having the same practice times then we would have to have turns on the bike and I would feel super stink if I crashed on someone's bike.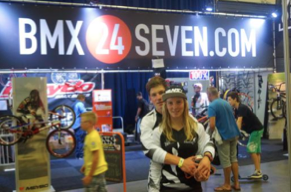 After an offer from my girlfriends mum Jodie Martin to buy a new bike and put it on her credit card so we could sort it out after worlds when we got home. With the help from the guys at bmx24seven I was able to get a bike built for me in 6 hours, which is pretty much the same as my old one. I was able to do all the worlds practices due to the bike being built so fast.
The day before I raced I saw Caroline Buchanan's picture of my stolen bike on Facebook. Her and Barry Nobles had brought it off a guy riding it down the streets of Rotterdam for 220 Euros this was a major surprise for dad and I. We quickly sorted out picking up the bike.
I went on to race the next day on my new bike because I hadn't had any track time on my old one, I came 1st in my first 3 motos , 2nd in my 1/8ths finals and then crashed in my 1⁄4 final while coming 3rd, so was unable to make it to the final and get the result I was looking for. . However I enjoyed the atmosphere at Ahoy, the track was so sick it was super hard packed and smooth, it was the first time I have racing on brick corners I found them to be really fast and grippy.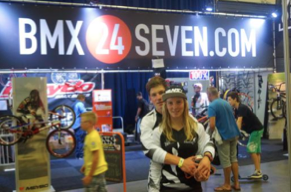 The next issue we had was getting two bikes back to NZ we had to look around for another bike box we were able to get one off the guys at bmx24seven. Lucky for us Dad and I both had 30 kgs of luggage on the plane so the extra weight was not a problem. None of this could of been possible if not for the support from everyone in NZ and the help from my sponsors, Tiger building contractors, Bike Barn, Bike Medic, Stitcher's and Moto mayhem. My old bike is now for sale due to the fact that I need to pay off the new one now that I won't get insurance, please feel free to message me on Facebook for details.