UCI: On July 26th and 27th, the world's top names in BMX will compete for the rainbow jersey at the Ahoy Arena in Rotterdam. But before the weekend's Elite competitions, more than 2500 amateur riders, from as young as five to the over-50s, will race in the age-group Challenge classes. We catch up with three of the participants.
Megan Williams (10) – New Zealand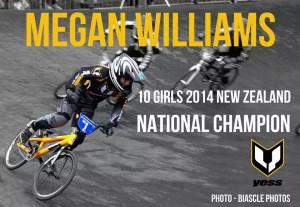 Ranked No 1 for her age in New Zealand this year, Megan Williams is aiming for gold in Rotterdam. Last year she took the silver medal at the Worlds in front of her home crowd in Auckland.
"The atmosphere was amazing and it was great to see all the BMXers from around the world," says Megan.
With her own dedicated website and member of the Yess Factory BMX team, the young athlete has a tough training schedule that involves three mornings a week at the gym and six evening training sessions.
Her strengths? "I have a strong desire to achieve my goals. But I need to work on taking in the things I did wrong and processing it to make me a better rider."
Above all, Megan enjoys this sport which allows her to travel: "It's fun to ride with your friends and you get the opportunity to meet and ride with new people."
Chris Schoonover (38) and his son Jayce Patin (7) – USA
Former pro Chris Schoonover won the ABA Pro Cruiser World Championships in 2000 then retired from competition and hung up his bike. After eight years as a pro and a successful career it was time to call it a day. That was without counting on his stepson Jayce who was inseparable from his bike from the day he learned to ride.
"I took his training wheels off when he was three and he literally rode his bike till the wheels fell off."
At four years old Jayce started racing and begged his stepdad to start competing with him.
"He got me back into it. I ride and train with Jayce but not as much as I should. He pushes me to do more! He is a very good pupil, very competitive and talented but also humble. He has got several other kids from the neighbourhood into the sport.
"I get far more nervous at his races than mine," continues Chris Schoonover. "I am in control of my race but not his. But it seems the bigger the race the better he rides. So we are excited from him to race the Worlds."
While Chris Schoonover's aim in Rotterdam is to qualify out of the motos ("after that anything is possible"), Jayce makes no bones about the fact that he is there to win: "These are my first World Championships but I'm not nervous," he says. "I train 2 to 3 days a week and what I like most about BMX is having fun and riding my bike."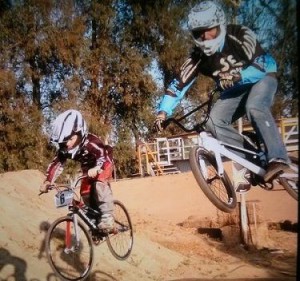 Photo: Jayce Patin and Chris Schoonover in training courtesy UCI