The NZ Worlds Team of 29 attended the BMX Worlds in Medellin – Colombia.  Most of the team arrived on the Thursday prior to the champs. The riders were able to ride on three of the tracks in and around Medellin. Some took Metro line and up the Cable Cars so they could see some of the sights of Medellin.
From the first visit on Tuesday morning, where the venue, track nor start hill were near completion to the Sunday, a lot of work went in but the track was still deemed a construction zone on the Sunday afternoon during the scheduled track viewing time and approval to ride was given only half an hour prior to our 8.00am practice session on the Monday.
Monday saw team NZ's first practice session – session one. Having set up staging we were able to advice riders where to go and how the ow worked. Our Monday and Tuesday practice sessions went well with the accredited sta helping all riders from the countries involved, especially in staging. Unfortunately Paul Luttrell injuring his shoulder during cruiser race morning warm-up and he unfortunately had to withdraw from racing.
Excerpt from BMX.net.nz – Dion Earnest
'To make a Worlds BMX final and get a W ranking is a massive achievement. A semi means you are in the top 16 in the world… Of the small NZ team of 29 challenge class rider entries that went over to Colombia 15 are now world ranked, add the 8 in the semis & you have 23 of 29 in the top 16 in the world… that's pretty good numbers."
8 riders made semis 1 rider made W6
2 riders made W4
2 riders made W2
1 rider made W7
3 riders made W5
2 riders made W3
4 World Champions (W1)
Well done to all the NZ Team riders with some exceptional riding especially Leila Walker taking out her 4th World Title and our other World Title Champions Sasha Earnest, Cailen Calken, Jessie Smith and of course Maynard Peel.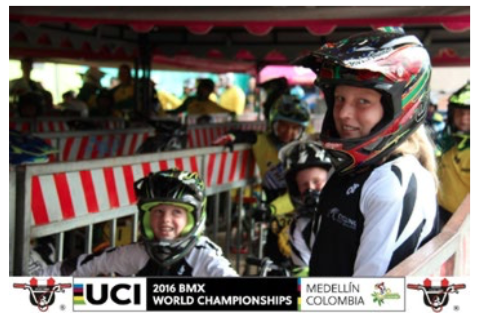 For a little Nation NZ riders really made themselves a force to be reckoned with. A huge thank you must go to Sue Walker as Team Manager and all of those parents that assisted in the pits and in anyway. Planning has already started for the Rockhill Worlds in USA 2017.