It proved a bitter-sweet day for New Zealand riders at the UCI BMX World Championships in Colombia today.
Sixteen-year-old Maynard Peel from Auckland became the first Kiwi male to win a BMX world title with a brilliant victory in the junior elite final in Medellin today.
He is just the second New Zealander to win an elite world championship BMX title after Sarah Walker, who was first to congratulate the young Sunset Coast rider after his win.
Walker, who injured her shoulder in a training accident yesterday, had her Olympic dreams shattered when she was unable to ride competitively, going out in the morning qualifying motos.
Her fellow Cycling New Zealand high performance teammate Matt Cameron qualified for a career-best semifinal in the elite men's competition, narrowly missing out on a spot in the final.
Peel, from Papakura, had to produce a remarkable effort to even make the final after he pulled his foot from the clip on the first jump and drifted to last. However he rode furiously in what seemed a forlorn mission, managing to push through to third place in a stunning ride.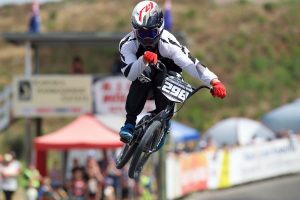 He jumped superbly from an outside gate in the final as he and Mathis Richard (FRA) stretched clear of the field. Maynard rode with patience before under-cutting the Frenchman on the final turn and holding on for the victory.
The only other Kiwi to medal at junior men's elite is fellow Sunset Coast rider Trent Woodcock who was second by the narrowest of margins at Copenhagen in 2011.
"It was a great win. I just focussed on following the process and to believe and the result would take care of itself. I am overly stoked," Peel said.
"I thought the worst in that semifinal but after getting my foot back in the pedal I stayed relaxed and panicked all at the same time, weaving through riders without falling. I was so stoked to make the final.
"To stand on the podium made me so proud and happy to make my supporters proud, especially my mum and dad and family who have always supported me and believed."
Peel said Walker had played a big part in his mental approach.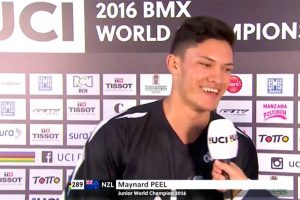 "I owe a lot to Sarah who really looked out for me. She helped my mental approach and was the one to speak to me about following process. And for her to congratulate me after was special."
Walker, who was unable to lift her arm above her shoulder, was unable to attack over the key big jumps in the elimination rounds. She managed three fifth placings in the motos but it was not sufficient to progress into the elimination rounds.
With that went any hope of securing one of the two remaining individual spots for the Rio Olympics, after she finished fourth in Beijing and second in London.
"It was always going to be a tough task for Sarah. It was just not stable enough for her to perform to the level that she needed, but we did everything we could to get to that point," Cycling New Zealand BMX coach Ryan Hollows said.
"Today was one of her top performances, not results-wise, but the processes she went through and what she had to do to get on that gate and still ride today was nothing short of remarkable and I am extremely proud of what she managed today."
Hollows said Walker will have the shoulder fully assed by Cycling New Zealand medical staff when she returns and they will make a plan from that point.
Cameron was in excellent form with two wins and a second to top his qualifying group in the elite men's competition. The Taranaki rider was second in the eighth final behind double Olympic champion Maris Strombergs and second in his quarterfinal to double world champion Sam Willoughby.
He had an excellent gate in the semifinal but made a slight error on landing which slowed his momentum, and at that level he was unable to make up the distance, finishing sixth.
"It was a breakout performance from Matt. He rode tremendously all weekend which is something we have been waiting for him to produce. But for a small error on landing the first jump he could have made the final but I believe Matt will go from strength to strength from this point."
North Harbour's Michael Bias, in his first world championships as an elite rider, was fourth and sixth in his first two heats but won his final moto to progress to the elimination rounds on count back. He placed sixth in his eight final and did not progress.