A fit-again Sarah Walker heads to Europe tomorrow in her quest to qualify for the Rio Olympics, after recovering from a fractured arm.
The 27 year old BMX star, who suffered her latest injury set-back just eight weeks ago, will join the rest of the New Zealand team for the third round of the UCI World Cup Supercross in the Netherlands next weekend.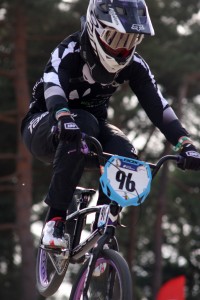 They will then head to Florida to train ahead of the all-important world championships in Colombia at the end of May which will be the final qualifying event for selection to Rio.
There's plenty at stake for the New Zealand riders over the big outdoor jumps at the Papendal track and when the world championships venture to Colombia.
At present New Zealand is ranked 11th in the world for elite men which will guarantee one spot in the Olympics.
"We can't take anything for granted that is for sure and we want to be showing strong form," said Cycling New Zealand BMX coach, Ryan Hollows.
"There's plenty of competition within the team as well to chase selection for that single men's spot if we can secure it."
Currently 21 year old Trent Jones is the highest ranked New Zealand rider in 15th wand hoping to build on his strong form this year which has seen him through to the quarter finals in Manchester and semifinals at Argentina. He will be joined by Taranaki's Matt Cameron in the men's field at Papendal.
The Olympic situation is less secure in the women's ranks where Walker is the only New Zealand rider to earn ranking points.
New Zealand is presently ranked 13th and well below the bottom placed nation to earn one rider for Rio.
There are two other qualifying options. The first is to be among the three highest individuals from nations not already qualified and the last qualifying opportunity will come at the world championship where there are two additional places available.
"Right now it is more about getting Sarah back into competition and confident with her riding again," said Hollows. "She has trained very well and has not lost any of her strength and fitness.
"Sarah was in outstanding form prior to the accident and we are confident she will be back to that level, and then the results will take care of themselves."
Hollows said they have decided on Florida as their base as it has similar temperatures and time zones and a single flight to both the world championships in Colombia and to Rio.
Walker will be the sole elite female racing at the world championships with four men led by Jones, Cameron, Daniel Franks and North Harbour's Michael Bias, making his first appearance in the national team although currently working back to form after injury.