New Zealand's men's and women's BMX teams defeated the Australians in the first of two annual tests.
North Harbour riders, Rangi-toto College twins Ashley and Jamie Williams and Jordan Donaldson from Hobsonville Point High School, were in the winning teams.
Four riders from each country compete for points over eight races with team tactics crucial for success.
The women, who have enjoyed recent dominance over their trans-Tasman rivals, continued to have the upper hand.
However it was closer in the men's competition where it took the Kiwis until the last race to put Australia away.
It was the first test victory for the men since 2013.
Both teams will head to Queensland early next year for the second test.
The weekend of racing at Taupo also featured the North Island BMX Championships.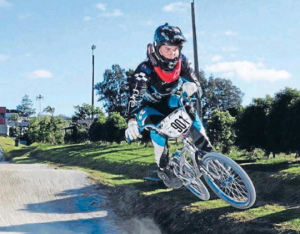 North Harbour team captain, Michael Bias won the elite men's final, winning all three motos and the final ahead of high perform­ance rider Daniel Franks.
And not to be outdone by his children in the test team, Kerry Williams won the men's 40+ final.
North Harbour BMX had a team of 62 riders at the champion­ships which attracted over 800 riders from both sides of the Tas-man.