Nine months after her last major international, Sarah Walker has grabbed a bronze medal in the Super Time Trial at the UCI BMX World Championship in Belgium today.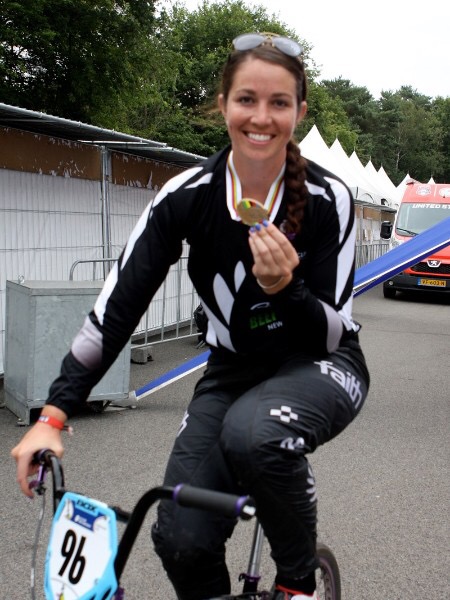 The London Olympic silver medallist crashed heavily in USA last September, and she has spent nine months recovering and rebuilding from a broken arm and head injuries.
She led a strong performance from the New Zealand riders in the Time Trial ahead of tomorrow's elimination racing at the new circuit in Zolder, within the former Formula 1 race circuit.
Trent Jones produced an outstanding qualifying lap to be eighth fastest although made a mistake in his second run in the Super Time Trial run where he was 15th, while fellow Canterbury rider Daniel Franks was 25th and Marc Willers cruised his lap to be 66th fastest.
Rebecca Petch, who rides for Walker's sponsored team, was an outstanding sixth in her first year in the junior elites, while fellow Te Awamutu riders Codi Merito and Cole McOnie were 19th and 30th fastest respectively.
The Time Trial leads into tomorrow's racing but carried separate world championship status with Olympic gold medallist Mariana Pajon (COL) repeating the elite women's Super Time Trial victory she won in Auckland two years ago, and 2011 World Champion Joris Daudet (FRA) won the men's Super Time Trial final.
Walker, who said she was unsure of her abilities against the best in the world after time away from the circuit, was fifth fastest in her first run in 36.627s to qualify for the Super Time Trial.
She went faster in the second run in 36.365s to displace her close friend Laura Smulders (NED) in the leader's chair before American Alise Post pipped her. After defending champion Caroline Buchanan (AUS) went slower and with only Pajon to follow, Walker knew she was on the podium.
"It's quite over-whelming. It's been such a long way back and I've had to go through so much, and had no idea how things were going to pan out so it was quite different to what I am used to," Walker said.
"Today I was really happy with two good laps and after a long time off racing.
"After everything I've gone through, I feel like this medal probably means the most to me of all the medals I've won," said the London Olympic silver medallist.
"What I did really well was to get really good track speed around the rest of the track but I know there are quite a few girls who finished behind me in the time trial who have really good first straight speed.
"Tomorrow I will need to be quite smart and quite patient and use my track speed to do as well as I can."
Walker was also thrilled with the effort of her Avanti-teammate Petch, who was one of the youngest in the junior elite category.
"I am confident in her that she can get to the final and bring home a result. She is the next generation coming through in BMX and I want to help her get that experience she needs to be the next Olympian and hopefully a future medallist for the country."
Tomorrow's racing may be affected by the weather, with a storm forecasted as organisers have brought in the army to dismantle all marquees ahead of the weather front, which may prove challenging for the riders.
All riders compete tomorrow with the top 48 men and 24 women after three qualifying motos to join the exempt riders for elimination rounds.
That will mean a total of 64 men will proceed into eighth finals and 32 women into quarters, with single race eliminations through to the grand final which is scheduled for 5.30am NZ time Sunday with coverage live on Sky Sport 3 from 3am.
Results, UCI BMX World Championship Time Trial:
Elite Women:
Mariana Pajon (COL) 35.518, 1;
Alise Post (USA) 35.928, 2;
Sarah Walker (NZL) 36.365, 3.
Elite men:
Joris Daudet (FRA) 30.953, 1;
Niek Kimmann (NED) 31.029, 2;
Connor Fields (USA) 31.288, 3.
Trent Jones (NZL) 31.845, 8;
Daniel Franks (NZL) 32.251, 25;
Marc Willers (NZL) 33.631. 66.
Junior Elite Women:
Axelle Etienne (FRA) 37.036, 1;
Ruby Huisman (NED) 37.286, 2;
Natalia Afremova (RUS) 38.336, 3.
Rebecca Petch 38.606, 6.
Junior Elite Men:
Shane Rosa (AUS) 32.582, 1;
Brandon Te Hiko (AUS) 32.710, 2;
Colin Hudson (USA) 32.785, 3.
Codi Merito (NZL) 34.291, 19;
Cole McOnie (NZL) 34.731, 30.