Welcome to the second edition of the National BMXNZ Newsletter. We hope to have these out every two months and encourage clubs to submit stories, news and race reports in here to keep the New Zealand BMX community up to date in our news and events.
A huge thanks must go out to our contributors this edition: Hayley Gedye, Sha Pragnell, Jarrod Browning, Tess Bates, Nick Fox, Dion Earnest, and Norm McCann. Photo credits: Sha Pragnell, Hayley Gedye, Nick Fox and Facebook (steals)
NERANG & TEST TEAMS JAN 2014
While a lot of BMX families were still recovering from the festive season, a number of riders made the trip across to Australia for the Nerang International. With temperatures predicted in the 40's the racing was going to be tough on and off the track.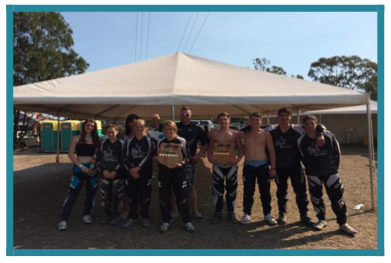 The Winning Kiwi Test Teams
Friday night allowed for the Challenge riders to enjoy some good racing from the Elites as it was the Champbike/Probike Series. The New Zealand contingent had a good showing on the podium to the season opener.
Avon Peel managed a fourth in a hotly contested group (17-24 years) and a second in Round 2 on the Saturday event. Tim Ferguson, NZ Factory Yess rider, finished fifth (30+ Masters). Whiteonesugar/Chase rider Logan Hirst (14 Boys) was competitive all night, and was unlucky in the crucial semi where he missed out on a finals spot. Crupi NZ rider Jordan Donaldson was super dominant and rode her way to victories in both rounds of the 14 Girls; showing once again the dominance the New Zealand girls have at this present era.
Again the girls showed the boys how its done with Factory Pure rider Zoe Fleming proving too quick for her competition all weekend with double wins on Friday and Saturday, and with Avanti ride Rebecca Petch placing second and third.
Now Factory Phoenix (USA) Maynard Peel struggled with the Australians, making it obvious that he was a threat and they made sure it wasn't going to be easy for him. Maynard still managed a fourth on Friday and a second on Saturday.
Jayden Fleming (Factory Pure) took advantage of the extra attention Maynard was given and got in for a third on Friday night and a fifth on Saturday.
Amy Martin had some bad luck on the Friday night but managed to bounce back on Saturday with the win in the 15 Girls Class.
The Elite classes yet again provided a spectacular display of racing.
Friday didn't go the way of the Kiwis with National Champ Michael Bias (Factory Pure) going out in the semis, in a painstaking fifth position. Codi Merito (NZ Factory Yess) and James Natrass (Whiteonesugar/Team Chase) also went out in the junior events on both the Friday and Saturday. Michael managed to bounce back and beat some household names to make a final appearance where he placed seventh. Hayley Gedye (NZ Factory YESS) managed a fourth and a fifth in the two events, while Hannah Sarten (Crupi) signalled her return from injury to take a double by winning Rounds 1 and 2 of the Australian National Series.
So now it was the Challenge riders' turn to race, with Saturday having three qualification rounds to gain points for the Finals Day on Sunday. With temperatures in excess of 40 degrees the riders were keen to get the 3 Motos out of the way and get back to those swimming pools at their accommodation, and the supporters were also very keen to get back for a refreshing beverage or two. All the New Zealand Challenge riders looked competitive against the Australians and most made it through the rounds as expected.
Sunday was Finals Day and the temperature had dropped a bit but was still quite hot. The riders and supporters were glad it wasn't another 40+ day as they had a tough day ahead.
Two Motos and then it was Finals time. Abby Hirst was first up and ended up with a seventh place for her efforts. James Whyte was up against some tough competition including the current Australian Number 1 and World Number 5. James entered the first corner in between the two top Australian riders but James proved to have too much track speed and pulled in front of the Australians and took the win.
Directly after was the 11 Boys duo of Cooper Merito and Rico Bearman. These two over the years have had some awesome battles. The pair would have their work cut out as they had to compete against the current World Number 1 and Australian Number 1, who was racing on his home track. Rico convincingly took the win by leading from start to finish. Cooper rode well and placed seventh after having to come from the outside gate position
Logan Hirst was next up in yet another very solid age group in Australia. After a good start Logan got a bit squeezed down the first and then it was always going to be tough to come back from that with minimal passing opportunities around the Nerang track. Logan managed a very credible fifth place, after good performances right throughout the weekend.
Jordan Donaldson wasn't finished after taking the double in the Champbike series, she wanted more and again showed the competition her back wheel and took the win in the 14 Girls Challenge Class. Nobody even looked close to giving Jordan a challenge, with gate start putting all the other girls on the back foot right from the get go.
Then, to rub salt into the Australian girls' wounds, 15 Girls Amy Martin took the win, also signalling her arrival to the international competition. I am sure that will not be her last win in international competition either.
Avon Peel was up again after competing in the Champbike Series and ended his campaign with a win in the 17-24 Class, showing his little bro how it's done.
The Challenge Class riders were all finished and so were able to watch the pros battle it out for the podium once again. The A Pro Class was full of great talent and, with entries totalling 62, there was going to be some good riders struggling to make finals. Test Team rider Clay Merito was halted in the Moto stages after not getting enough Moto points to transfer into finals. This proved how competitive this group is in Australia. James Natrass, Liam Perry and Josh Smith battled through and were knocked out in the crucial semi-final where many aspirations came to an end.
The New Zealand boys represented well and had three riders in the final. Lewis Smith ended the day best with a fourth place finish, followed by Maynard Peel who finished sixth and Bayleigh Rees who finished eighth. Lewis Smith after crashing several times during Champbike much of the weekend reached semi finals but did not progress due to another crash. Our senior test team riders entered the A Pro class for the first time. With a field of 62 riders and having to jump the pro section Kiwi riders Bayleigh Rees, Lewis Smith and Maynard Peel did an excellent job to reach the finals.
The AA Pro, again with good numbers (42 riders), proved too demanding for a lot of our riders. Michael Bias (Factory Pure) went out in the semi final. Codi Merito (NZ Factory Yess) bounced back, from having been eliminated in the semi-final stages on previous days, to make a star-studded main race and placed a valiant fifth place behind seasoned pros such as Anthony Dean and Barry Nobles.
The Kiwi girls were not going to be upstaged by the results of the pro men and took it to the pro women's field. With New Zealand fielding four of the eight riders making up the final gate, it was inevitable that the girls would produce some great racing. Rebeca Petch (Team Walker/Avanti) managed a sixth place behind Zoe Fleming (Pure) who again finished in fifth place; both girls still in the Challenge ranks but letting the Elite know it won't be long before they are further up that final order. Hayley Gedye (NZ Factory Yess) had another good ride and was just one place short of the podium in fourth.
Current Elite Women's World Champion was on the gate, and I don't think Caroline Buchanan was expecting this kind of challenge from her younger competition. Hannah Sarten (Crupi) and 15 year old rider Saya Sakakibara were both leading Caroline during the race. Hannah proved to be too strong and Caroline could not pull her back before the line, with Hannah taking the win ahead of the current World Champion.
The Nerang International again proved to be a great event allowing the riders to start their season with some great weather and racing over the three days. The event seems to be continually growing stronger, and is most definitely a worthwhile trip.
The event also doubles as another Test Team competition, which provides some entertaining racing between New Zealand and Australia.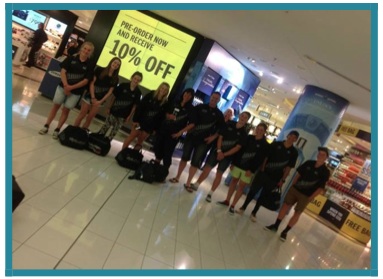 Snr Test Teams
SOUTH ISLANDS
The track at Bexley Park was hit hard by the quakes, and even now has no on-site power, water or toilets. Despite facing these challenges, the organisers provided a well set out track with ample facilities for the 255 riders entered and their families.
The weather forecast was for rain, but instead turned fine and providing a hard and fast riding surface. This was closely groomed by track staff, led by long time club member Mark Wilson. There was a great showing of world ranked riders, following on from the 2013 UCI BMX World Championships in Auckland, and there were many close tussles for placings.
The smallish Superclass field, consisting entirely of South Island riders, provided some spectacular racing. Local rider Jono Varty took double honours for Superclass and Elite men. The action-packed Elite Men's Final saw North Avon (NAC) Rider Daniel Bowers Wilson take out second place ahead of Alexandra brothers, Leon and Nathan Adair who finished in third and fourth places respectively.
World Number 1 rider Cailen Calkin from the Hamilton Club blitzed the field of the 13 Boys Class taking home the #1 plate, following on from his Mighty 11 victory in 2013 against a strong Australian squad in Te Awamutu. There was exciting riding in the 15 Boys Class with Isaac Pulley from Rangiora taking the win ahead of hard riding local Connor Mahan, NAC, and Southland riders Callum Holloway and Zach Griffiths.]
Hawkes Bay rider Stevie-Lee Reuben recovered from a slipped pedal in the second round to take the win in the 13 Girls Class from Taylah Pragnell, ranked fifth in the North Island. Christchurch City rider Corrina Lloyd came first in the 15-29 Women's 20″ and in the 13-29 Women's Cruiser. She also did a fantastic job of pledging the riders' oath during the opening ceremony.
The more mature riders were extremely competitive with close racing and tight finishes, requiring a camera finish confirming the placings on more than one occasion. The eldest rider at the meeting, Roy Leaning from North Avon club, gained the South Island ranking of #3 behind club mate Peter Page in first and Dunedin rider Gavin Finnerty in second for the 44+ Cruiser Men.
Results – 2014 BMX New Zealand South Island Titles
The South Island Titles is a unique meeting with a great atmosphere and it was pleasing to see a number of North Island riders coming down to enjoy the weekend, along with many new South Island riders experiencing their first major BMX event.(Credit Norm McCann)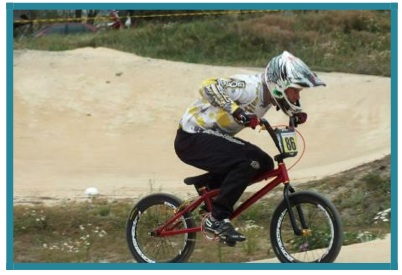 Daniel Bowers- Wilson at South's
Next year the South Island Titles will be held at Alexandra BMX club, lead by Club President Steve Adair, which promises to be another great event!
JARROD BROWNING – LIVING THE DREAM IN THE USA
On the 16 of October 2013 I had eagerly awakened to the fact that I was shortly bound for an experience of a lifetime in the United States of America. My motivation to succeed overseas had led me to large amounts of training, a lot more than previous years for domestic racing and major New Zealand events, therefore making me feel comfortable and the fastest I had ever been on my bike.
After waving goodbye to my supportive family and sister, I boarded my 7:15 flight headed for San Francisco. After 13 hours airborne we caught a connecting flight to Orlando, Florida.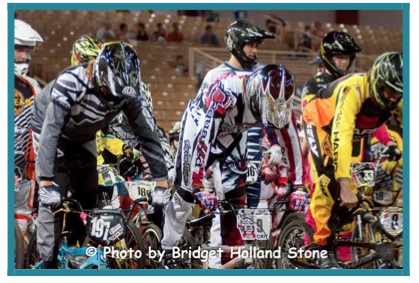 Jarrod Browning #197 at Disney Cup
Sprints and gym were the training methods before racing at the Disney Cup full nationals once in Orlando. After only three practice laps on the track I felt like I was ready for the very competitive class, which I knew would be nothing like I had ever raced against in New Zealand. My racing results were lower than I had expected of myself and I now knew the level of racing required of me to make a name for myself on the ABA circuit.
The day after racing I was right out of Orlando, Florida and heading towards San Diego, California to reside with national number one amateur champion Rusty Nesvig. This left me with four weeks build up to the next major event, which was the ABA Grand Nationals. Training with Nesvig and London Olympian Nic Long, as well a massive increase of intensity to my training, meant my riding level had risen higher from the beginning of the trip. Riding and preparing myself at the Olympic training centre (OTC), in which I rode the Chula Vista ABA track, gave me all chances possible of achieving my high expectations going into the ABA Grand Nationals.
A 27 hour drive from San Diego, California on Sunday to Tulsa, Oklahoma was required to arrive at the Grand Nationals which we arrived at on Tuesday the following week. After inspecting the track and choosing lines, racing in America had started to sink in and I realised this was what I wanted as a career. After 30 minutes of practice, which gave me four laps to learn and dial in the track, I had a perfect mind-set and headspace which I took into the racing the following Saturday. The largest Grands ever had proved to make racing difficult.
(Disney Cup)
Feeling good on the gate of my first race I was hit by a crashing rider taking both of us down on the first straight away, leaving me with torn ligaments to my left knee. After that crash words couldn't describe the feeling of devastation after putting in a lot of hard work leading into this event. Racing with an injured knee was not part of my plan to get to the finals of the biggest race on earth. With an injured knee I still got to the top 16 of the 17-20 Open Men's Class; which proves that if my knee was 100% I would have been in the final main event.
Once finished up in Tulsa we drove back to San Diego where I stayed with Rusty for another three weeks until I flew back to New Zealand on the 23rd of December.
This trip was definitely an eye opener for me and showed me that BMX is what I want to do with my life. I'm hoping to make another trip to USA again in the very near future.
I want to thank the Nesvig family for welcoming me into their home with open arms, my parents for their support this whole time and also Smythe Contractors for allowing me to have time off to chase dreams. (Credit Jarrod Browning)
GIZZY ON TOUR – SOUTH'S
Gisborne BMX club members Tylah, Jude and Allan Halley, along with Hayden, Taylah, Shane and Sha Pragnell (Club Team Manager), headed to the South Island on the 3rd of January to attend the Mainland North BMX Region Champs from 5-7th January and the South Island Title Championships from 11-12th January.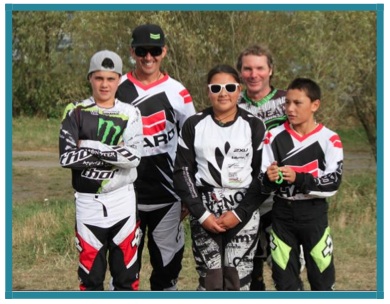 Gizzy Crew at South's – Tylah &, Bully Halley, Taylah Shane and Hayden Pragnell
Region Champs were held over three days at three different tracks; North Avon, Rangiora and Hornby. Day one at North Avon saw some great racing and riders were ready to go hard. Unfortunately our Jude Halley on day one crashed in her third race and suffered a bad fall, injuring her leg and hand. She decided that on days two and three she wouldn't ride as she wanted to recover and hope to race at the South Island Titles the following weekend.
Days two and three saw some awesome racing from the Gisborne members and they worked hard to get top placings. At the end of the Region Champs, members were ranked as follows; Tylah third 14yr Boys; Allan second 30+ yr Male 20"; Hayden third Group B 11yr Boys; Taylah second 13yr Girls and Shane 5th 30+ yr male 20".
Day one of the South Island Titles saw Jude Halley not riding, as she had not recovered as well as we hoped and unfortunately had to sit on the side line and watch. Gisborne riders were all riding well and giving their best to make it into the top rankings for the finals on day two. Taylah, who was carrying an injury from a crash on practice day, saw her come through with determination, riding well to hold her place.
Day two came and all riders rode their strongest and hardest to see who would go ahead into the finals. Hayden Pragnell, who rode well on day two, unfortunately did not have enough points to go into a final but was ranked 11th overall for 11yr Boys; dad Shane also missed out on a final and was also ranked 11th overall for 40+ Male 20".
Tylah, Allan and Taylah all made the finals and were all riding to get top three placings. Allan Halley raced hard all weekend. He had NZ Number 1 rider Dave Mohi to race against, and at the end of it all Allan raced hard and placed a well-deserved overall second for 40+ Male 20". His son Tylah also raced really well holding his place and ranking overall second for 14yr Boys. Taylah Pragnell fought hard to keep her place and ranked an overall second 13yr Girls.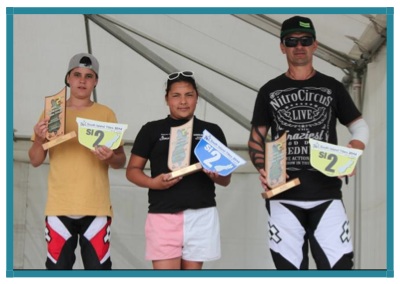 Tylah HALLEY, Taylah PRAGNELL and Bulli HALLEY all with their Souths Plates
Warren Boggis, Official of BMXNZ, said that 2014 South Island Titles attracted the most riders since he can remember with a total of 255 riders. Of those, 79 riders were from the North Island.
SACHA EARNEST – 8 YRS GIRLS WORLD CHAMPION – UPDATE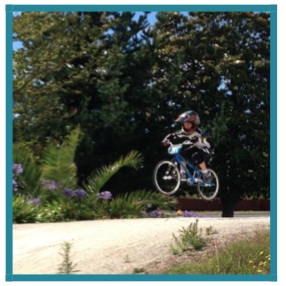 Sacha Earnest shows some great skills
After the successful World championships, with a World Number 1 under her belt, Sacha worked hard in the lead up to Norths. She won all her Motos, semis and finals to gain her NI#1 plate. She now pushes on with another long season with the goal of travelling to Rotterdam to defend her title.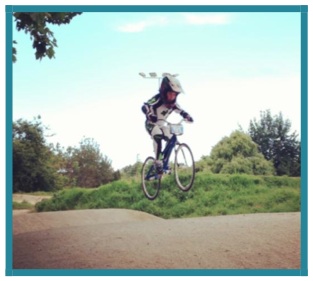 Sacha Earnest showing her winning skills
MOUNTAIN RAIDERS UPDATE
The club has arrived at the final stages of the track build at Lloyd Elsmore Park. The corners were being tar sealed the week of 13 January 2014. From there, a few features are to be tweaked to accommodate the speed that will be generated from the new sealed corners. A roof structure is in the consent process at the moment and we hope to have this completed by the end of the season.
The club is growing and we have a great new batch of young riders keen to get involved with the sport, especially after the coverage of the recent World Champs. The club has grown to 140+ members.
We hope to see heaps of you coming along to the MTR meet in March this year.
ELITE GIRLS CAMP SLEEMAN
On Monday 10th of February 2014 Sarah Walker, Hannah Sarten, Tahlia Hansen and myself (Hayley Gedye) flew to Brisbane, accompanied by Ryan Hollows and Mark Holland, to train on the Sleeman Supercross track for the week. And what a week that was! BikeNZ had hired Sleeman Track twice a day with two hour periods Tuesday – Thursday. We stayed at the Sleeman Sports Complex and only having to bike two minutes to get to the track was awesome!
Tuesday afternoon we went and checked out the track, had a look at the jumps, worked out what we were going to do each straight and get prepped for our first session in the morning. Tuesday morning we had our first track session on the SX track. We had one and a half hours to get the feeling of the track. The session went so well for us; we all had jumped the first jump and we were all pretty happy with how we were riding and were all looking forward to racing the next day.
Our next session was Tuesday afternoon, but only for an hour this time. We had local, and the current Aussie Elite Champ, Melinda McLeod join us this time. We were watching the lines she took; trying to figure out what was the best and quickest way down the straights. It was good having a local show us how to get through quick.
Wednesday was business day. We had time trials in the morning and racing in the afternoon. Sarah took the win in TTs, with myself in second, Tahlia third and Hannah fourth. After TTs we headed back to our rooms to have some lunch and prepare for racing in the afternoon.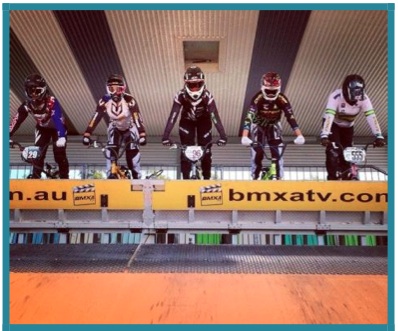 Elite and Jnr Elite Kiwi Girls on the gate at Sleeman
Come racing time the wind had picked up, but that didn't stop us. Racing went really well. Racing was close to the bottom of the ramp. Some close racing happened, but the track was super long and so much fun.
Come Thursday we were a girl down as Sarah flew home for the Halberg Awards.
The track sessions for Thursday were just fun sessions and working on areas we needed to. We were pretty tired by this day, as we rode hard Wednesday, so not much riding happened. Tahlia and I thought we would give the Mens First Pro a go as our confidence was sky high. We pretty much worked on first and second straight Thursday as they were the most fun.
Elite and Jnr Elite Kiwi Girls on the gate at Sleeman
Friday we flew home and the trip was over – bummer! All in all it was a successful trip as all of us stayed on our bikes! (Credit Hayley Gedye)
EAST CITY TRACK REBUILD
East City BMX Club had the mammoth task of creating a brand new BMX track in just over a month – a hard task in itself but with Christmas holidays falling slap-bang in the middle of it, some said it would be impossible! Well we managed to pull it off.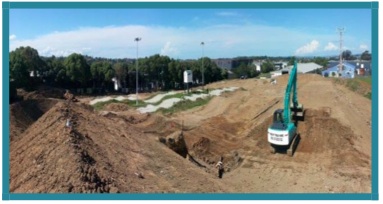 With Kurt Bagby taking a month off work and the steady hand and amazing talent of Carl Sorenson
On the digger/bobcat the arduous task began. With many long and hard worked days at the track, including both Christmas and Boxing days and a few working bees, our club pulled together to get the track up and running for the 2014 Auckland Championships. (Credit Tess Bates)
East City BMX Club now has a track that not only allows you to ride on a world style start ramp, but also allows for skill progression for all age groups.
As a club we would like to say a HUGE thank you for all the help we received from everyone, especially the help we received from other BMX clubs in the Auckland area. We feel that this project has helped to bring the Auckland clubs closer together and for that we thank you all.
Nick Fox in Schools
Nick Fox, Elite Rider visited 6 local Gisborne schools also a Kindy and a Coastal school over the past few weeks.
He has been promoting the sport of BMX hoping to inspire the younger kids of Gisborne to chase their dreams, especially when they are from an isolated area such as Gisborne.
Nick was also promoting the local BMX club's open day during Bikewise Week which saw a massive influx of new riders who came to give BMX a go. This has led to a further growth in the club.
Nick was also asked to be the guest speaker at the induction of the Tairawhiti Rising legend Squad of 10 athletes. Nick was part of this squad for three years and found it invaluable both with life/career planning, nutritional guides and Phycholigal assistance. Nick was also assisted finacially by both TRL and Sport Gisborne, It was a great opportunity to give something back and thank them for this assistance as well as pass on to this group of athletes how it assisted him then and thoses same skills help him still
Nick soon leaves to NZ to train and compete around the ABA circuit in America -we wish Nick all the best. Watch Nick's website www.nick-fox.com for updates on Nick's year.

Commonly asked Questions and Rule updates – Particularly important for upcoming Nationals.
By Norm McCann – National Officiating Director.
Over the last couple of weeks I have had some riders asking questions around the rules of BMX.
In New Zealand we are governed by two organisations. Firstly the international cycling organisation – the UCI, and secondly by our independent rules, last published in 2010.
The UCI amend their rules annually and the NZL book is currently in the process of being updated, due for release later this year.
Both are available on the internet – UCI at www.uci.ch and BMX NZ at www.bikenz.org.nz In the meantime, here are a couple of the more common questions I get asked; 
Can unlicenced riders ride at meetings?
1.010 Licences (BMX NZ rule book)
No person shall race at a BMX NZ sanctioned meeting unless they hold a current BMX NZ issued licence or an international licence recognised by BMX NZ, except as follows;
• Mums and Dads fun races
• Mountain bike invitation races
• Invited overseas riders
• Other novelty type races
Can I add items to my helmet?
1.3.031 (UCI Rule book)
Wearing a rigid safety helmet shall be mandatory during competitions and training sessions in the following disciplines: track, mountain bike, cyclo-cross, trials and BMX, para-cycling, as well as during cycling for all events.
During competitions on the road, a rigid safety helmet shall be worn. Except where legal provisions determine otherwise, riders taking part in UCI WorldTour events may, at their own risk, refrain from wearing a helmet during individual time trial races taking place entirely on a mountainous course. Every discussion regarding the qualification entirely on a mountainous course will be decided by the Commissaires' panel.
Each rider shall be responsible for:
ensuring that the helmet is approved in compliance with an official security standard and that the helmet can be identified as approved;
wearing the helmet in accordance with the security regulations in order to ensure full protection, including but not limited to a correct adjustment on the head as well as a correct adjustment of the chin strap;
avoiding any manipulation which could compromise the protective characteristics of the helmet and not wearing a helmet which has been undergone manipulation or an incident which might have compromised its protective characteristics;
using only an approved helmet that has not suffered any accident or shock;
using only a helmet that has not been altered or had any element added or removed in terms of design or form.
Do I have to wear my body protection under my jersey?
1.3.029 (UCI rule book)
No item of clothing may hide the lettering on the jersey or the rider's identification number, particularly in competition and at official ceremonies
Are there any limitations to the Jersey I can wear and does it need to be tucked in
6.1.056 (UCI Rule Book)
The jersey shall be a loose fitted long-sleeved shirt whose sleeves extend down to the rider's wrists. The following is not permitted for BMX jerseys:
Lycra
Zippers above the waist
Back pockets
Jerseys for Road/track cycling
The jersey must be tucked into the pants before the start to not cause interference
Why can I not wear jeans anymore?
6.1.057 (UCI Rule Book)
The pants shall be loose fitting long pants made of tear-resistant material
Loose fitting short pants made of tear-resistant material are permitted if used together with knee and shin protection with a rigid surface that extends from the knee protection to fully cover the shin, or to just above the ankle. Lycra is not permitted unless for use under the pants and to cover knee-protection.
Pants must be of a single piece construction, separated from the jersey at the waist.
The following items are not permitted for BMX pants:
One piece skin suits
Tight fitted pants that need to be stretched in order to cover the legs Lycra pants
Track and Field pants /jogging pants
Road/Track cycling pants
Denim / Jeans
Why are you telling me I cannot hold my son on the gate?
1.023 (BMX NZ rule book)
Starting Blocks
Riders 6 years of age and under may use a block or footrest, or place the block under the back pedal. The block must be no higher than 76mm above the lower pedal when in a perpendicular position. The top surface of the block must be parallel to the surface of the starting platform. No other rider may use any form of assistance to aid their start.
As we move close to the BMX New Zealand National Championships, I would like to ask everyone to remember that the officials and other staff at race meetings are volunteers, giving up their time to ensure the race meeting runs smoothly and that the riders can participate safely.
There is no excuse for rudeness or for arguments with these volunteers. It would be great the next time you see someone helping out at a race meeting you or your children are racing at, if you lean over and say thanks – doesn't take much, but a little appreciation goes a long way…
A final one that we all need to keep in mind is our code of conduct as set out
1.008 (BMX NZ Rule Book)
General Conduct
Riders will be held accountable for the actions of their parents, team managers and any other persons in their company at a BMX competition or event. Any misconduct on the part of any of these persons may, at the discretion of a Race Commissaire or Race Director, result in the disqualification or suspension of the rider and the removal of the offending persons from the track area.
All riders and supporters must observe these rules and follow all instructions given them by any official at any time during the course of an event. Every rider shall at all times observe such conduct as reflects the ideals of good sportsmanship and avoid any conduct which may bring the sport of BMX, UCI, BMX NZ, their Club or themselves into disrepute. Unacceptable and prohibited behaviour includes but is not limited to;
Any abuse of race officials
Use of foul or offensive language
Abuse of other competitors or supporters
Violence of any nature, whether on or off the track
Penalties for such behaviour will be determined by the Chief Commissaire, supported by the National Officiating Panel (for race meeting-related incidents). The Executive and BMX NZ Regional bodies may take action as appropriate for other non-racing matters.
My very best wishes to all riders who are training for the National Championships, this is going to be a great event at the Tauranga BMX Track over Easter
Kind regards Norm McCann
Next Newsletter will be out around the 1st May 2014 please send your stories, successes, information, news photos in to Caroline Fox at d.foxy@xtra.co.nz.